Day 100: Grilled chicken club salad
Total weight loss: 26.5 pounds. Next weigh-in: Saturday, April 21st
 Yesterday was day two of my back to work week. I didn't feel much like breakfast, so I ate a low carb yogurt.
I had a late lunch of two Beddar Cheddar sausages.
After visiting my dad at the hospital, Rick and I went out for drinks on the patio at Albert's on the Alley. I had their super-delicious and nutritious grilled chicken club salad with blue cheese dressing. I must say one of the perks of a low carb diet is being able to eat blue cheese dressing. Every other diet I've been on it was forbidden. By the way, I could only eat half the salad.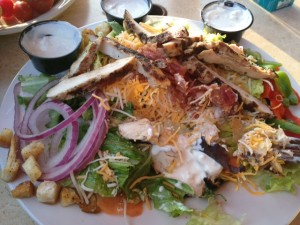 For dessert, Rick made chocolate mousse.