Day 286: Sunday at home – tacos
Total weight loss: 41 pounds
We stayed home today. There's still a bit to do moving out of the sold rental house, but it was a chilly Sunday and we enjoyed taking care of business at home.
Rick and I made separate breakfasts, but ate them together. I grilled some diced onions, added 3 eggs and grated cheese. I microwaved 3 pieces of bacon to go with. The result actually tasted better than a diner breakfast and wasn't very much trouble to make.
I wasn't hungry for lunch, and I was busy on the phone chatting with a friend for awhile, then with my son and new daughter-in-law. By the time I was through, it was about 5 pm. I ate some almonds while I worked on some files.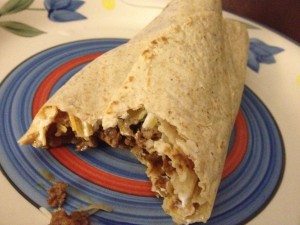 For dinner, we decided to make do with what was left in the fridge. I had a pound of ground round and some low carb tortillas, so I cooked up some tacos, topped with cheese, lettuce and sour cream. They were pretty tasty. It was a big tortilla, so I only ate one.
I had an Adkins chocolate/coconut bar for dessert.