Tag Archives:
Keto provolone taco shells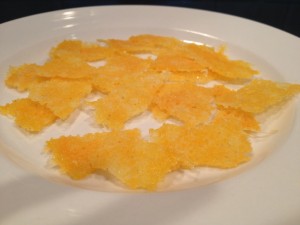 I've never been a big bread eater, but chips are another thing. I love nacho chips, not for their own sake, but because they are such a convenient way to transport various dips into my mouth.
I was wondering how I would handle not having snack foods on the keto plan. I'm the type who often orders an appetizer as a dessert. I love cheesy artichoke dip, salsas, guac, and all those yummy good things that can't just be eaten with a spoon.
Then I remembered trying this idea years ago: drop grated cheese into several small mounds on parchment paper and bake in the oven. Well, I don't even have the patience for that, so finding this recipe on the "Sin or slim" website helped buoy my spirits. Just nuke the cheese!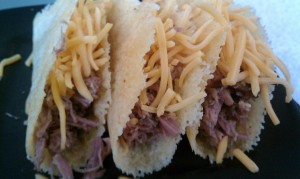 Even more exciting was finding that provolone slices can be heated in the microwave (again, on parchment paper) and folded in half after heating makes them the perfect shape to use as taco shells!
Credit should be given to the reddit.com "keto" subgroup: http://www.reddit.com/r/keto/. The redditors are so supportive of fellow keto noobies, that most of my questions were answered just through their comments.
More about pulled pork tacos later.