Day 167: Sunday working at the rental
Total weight loss: 31 pounds
Sunday breakfast was at a new place: Thomas's Family Restaurant. I ordered a bacon/cheese/onion omelet. I didn't order a side of bacon, since it was already in the eggs. I wasn't thrilled with it. I have realized that I never like an omelet that contains small, hard items. I'll like my omelets smooth, like my men. (Rick is bald. Bad joke.)
Anyway, the NYT puzzle was pretty simple, the eggs weren't great….and we needed to rush over to meet the electrician for some more work on the house. It is ALMOST ready for sale.
We worked for about 5 hours, then hit the Del Taco across Telegraph. I ate the usual macho beef burrito, sans tortilla. I did indulge in a churro. I have to look up the carbs, but I know it isn't good news. (OK, I just looked: 21 grams of carbs. An entire day's worth, but much better than I feared.)
We didn't get home until around 7. Dinner was chicken kabobs (without skewers). I had mine on a huge low carb tortilla. It was really filling and delicious.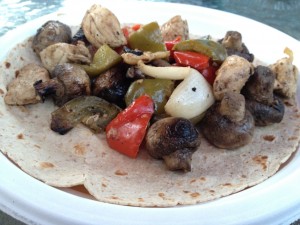 Dessert was two squares of 79% chocolate with natural peanut butter.