Daily Archives:
March 22, 2013
Thursday is date night. We keep our dates economical, and we discovered that Thursday night is a great night to go to Macaroni Grill.
First of all, they have good happy hour deals between 4 and 7 pm nightly. Wine is $3 a glass, and appetizers are 2 for $9. On Thursdays, they also have a deal where you can buy a bottle of wine half off.
Here's how to handle this while working the keto plan:
Order bottle of Chianti ($30, half price = $15)
Order two appetizers that are (hopefully) keto-friendly – peppadew peppers with goat cheese and balsamic vinaigrette
Order husband a $5 sausage pizza
Ignore bread and oil
Drink one glass of wine and follow up with multiple glasses of water
Note that BOTH plates of peppers became mine. It was like a $9 gourmet meal.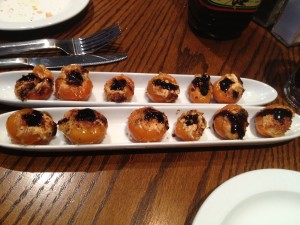 The total bill is about $30. This is not exactly the cheapest meal one could hope for, but it's very good for Macaroni Grill, plus half a bottle of wine goes home with us for another night. In our hey dey, we had lots of money to throw around and we would rack up a $100 check at M.Grill, so this seems like a good deal.
As for the movie night success part, see my blog about salt and vinegar almonds here.
Here's a peppadew pepper recipe. It's basically the peppers stuffed with goat cheese and drizzled with balsamic vinegar. YUM.
Rick and I went to the movies last night, and I knew enough to prepare by snacking on something before going in. Those concession stands are nothing but a big, expensive, and carb-filled enemy to the keto plan.

I love chili lime almonds and eat them daily as a snack at work. They have often saved me from pigging out on one of the fatty treats that my workplace always has on the snack table. I am a BIG lover of salt & vinegar potato chips, so when I discovered S&V almonds on Amazon a couple of months ago, I started looking for them on the local shelves. I always order in bulk from Amazon, and I didn't want to take a chance by ordering a whole lot of something that I didn't like very much. I needed a small taste test first.
Well, Rick found a 1.5 ounce pack at CVS, and they are as good as a handful of salt & vinegar chips. I loved them! I felt like I was indulging in some forbidden treat. Needless to say, I ordered a dozen cans from Amazon this morning. That amount should last me quite awhile, and I'll always have a nice back-up treat when temptation calls.